Disclaimer: This post contains affiliate links and I'll earn a commission if you shop through them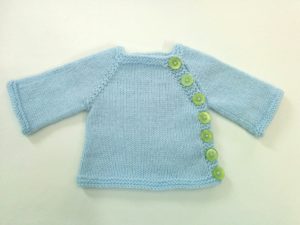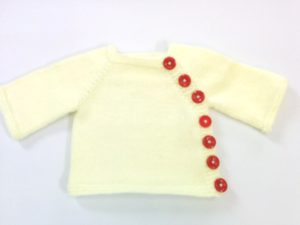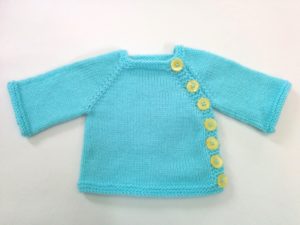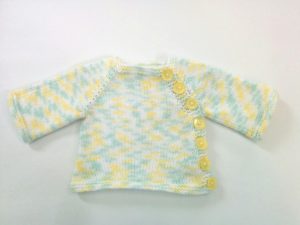 For the past couple weeks, I've been knitting this cute sweater pattern for my local Volunteer Center, Centre d'Action Benevoles. I've been involved in their knitting group for a couple of years now, alongside 8-10 other women.
We participate in craft sales, to raise money to buy yarn, but most of the items made are donated to local charities or groups.
The yarn that we get are mostly scraps, or leftovers from large balls. Some balls don't even have their tags to let us know what brand  it is. It really doesn't matter, because I've seen the ladies make beautiful knits with the yarn. But it's always a pleasure to get a branded yarn.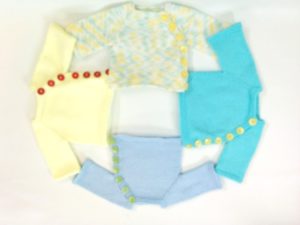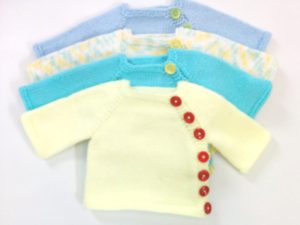 3/4 inch Buttons \ Yarn \ Knitting Needles
 \ Pattern
So what I can say about these sweaters, is that the yarn was DK sized, soft acrylic. I had a container full of mixed buttons, and after a few hours was able to find at least 7 matching buttons for each sweater. I actually inherited the buttons from my late step-mother-in-law. (My husbands father's wife- makes sense?)
As I write this, I've already gone to my monthly meeting and dropped off my sweaters. It was our first meeting back since the Christmas holidays, so the table was full of finished projects! The other ladies are all retired, and have more time to knit than I, but no one is keeping score (save for me!).
Want to get involved in volunteer work? If you live near me, you probably have a CAB in your town. Or you can donate to my CAB

here